Point Two Motorbike Air Vest
The Point Two Motorbike Air Vest known as the ProAir MC, is one of the fastest inflating Motorcycle Airbag jackets to hit the market. Leaps ahead of it original design the ProAir MC Air Vest is fully inflated in 0.08 seconds. Travelling at 60mph. The Point Two Motorbike Air Vest, fully inflates by time the rider has travelled 10 feet in distance. As a result this proves that the technology for a faster fully inflated air jacket is essential for rider safety.
The inflation speeds of the air vest is essential. Some other brands on the markets are still only just beginning to inflate at this time. The Point Two MC Air Vest is fully inflated in 0.08 seconds
The Point Two Motorbike Air Vest is designed to wear with a leather jacket or full racing leathers. As a result combining both air vest and leathers ensures a higher level of safety.
However, some touring riders use the Point Two Motorbike Air Vest with its integrated EN1621/2 Level 2 back protector on its own as a replacement to their leather vest. While we advise wearing proper protection for the parts of your body the air vests do not cover, we are pleased that they are wearing a higher level of protection than before.
The Pro Air MC air vest is one of only two models on the market, that has a high enough level of certification (EN 1621-4:2013) for both street and race use. See our safety page for more information on our industry-leading safety certification.
The air jacket is fitted and supplied with a Force Field Body Armour Back Protector and a spare canister. 
Can the Point Two Motorbike Air Vest be used for street and race track?
In a simple answer. Yes. A product for highway use, must get approved by a testing house. Dedicated to top-level safety at Point Two. The air vests go through quadruple safety checks. Tested by not one, but four top-tier, internationally renowned test houses. In addition to the standard tests. Point Two asked that the tests be checked beyond the normal measurements of standard safety tests.
In one impact test. Point Two insisted that the test be doubled from 2.5 kg to 5 kg in weight. The tests exceeded beyond the normal test specifications. As a result, the Point Tow Motorbike Air Vest is approved for use on the roads.
Racing in a Point Two Air Vest.
Point Two produce one of only two air vests in the world approved for use when racing. The Point Two Motorbike Air Vest has been certified to European Standards EN 1621-4:2013. If your air vest doesn't have this certification, you have a choice. Would you rather wear a high safety standard of air vest or less? You probably already know the answer.
Tests. Tests and More Tests!
When you take pride in the products you sell. It's good to know that these products are what you believe to be the best on the market. Having sold Point Two Air Vests for many years now. I still believe this brand to be ahead of the game. Tested again and again. Point Two have run their products through various test simulations to prove their products are no joke.
FIRST SIMULATION
A very common situation in and around the city. The motorcycle impacts the car at an angle and the dummy is ejected towards the front. This situation was tested at 30, 35, 40, 45 and 50 km/hour.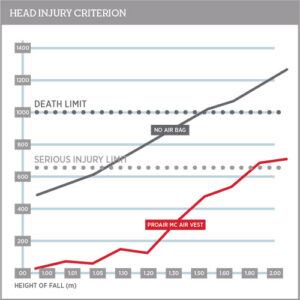 SECOND SIMULATION
The dummy falls on his back from different heights ranging from 1 to 2 meters. This simulation demonstrates the airbag jacket's effectiveness in protecting the spine. The research has concluded that the most vulnerable part was the neck that rotates much more than the rest of the spine.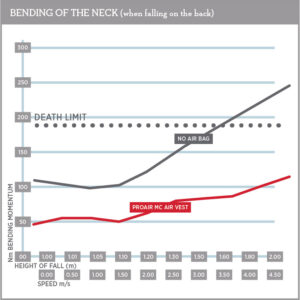 THIRD SIMULATION
The dummy impacts a pole horizontally at a speed of: 10, 15, 20, 25 and 30 km/h. This simulation is to show the airbag jacket's effectiveness on the torso when the rider hits an obstacle after flying off the motorcycle.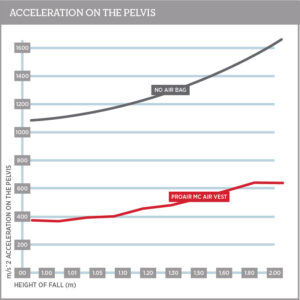 The quicker you go, the quicker you fall. The quicker you fall, the more important quick inflation rates are necessary.
Example. When you are travelling at approximately 60 mph, and you come off the bike. Would you rather travel 10 feet before your air vest inflates (your bike is probably 5-6 feet for reference), or 45 feet? It doesn't take a mathematician to answer this one. The quicker your air vest inflates, the quicker you have more vital protection. The quicker you have more protection, the quicker you may be able to get up afterwards.
The graph below compares the distance a rider travels before full vest inflation after a 60 mph crash. The red line measures a Point Two Air Vest with a .080 seconds inflation rate, the blue line measures a competitor's air vest with a 0.5 second inflation rate.
What makes my Point Two Motorbike Air Vest?
The Point Two Motorbike Air Vest uses one single double layered air bag. It does not consist of long tubes and neither does it contain any narrow passages to choke and slow down the CO2 dispersion. There are no separate chambers that can fold over on each other when a bend in the body occurs. As a result, this is how the Point Two air bags inflate faster than others on the market. The air vests use just one, continuous air bag. This fully inflates in .080 seconds to give you a big, comforting air hug.

Servicing and Warranty
We recommend servicing your air vest or air jacket yearly, after six inflation. (WOW, you must be a racer if you crash six times in one year) or a particularly heavy fall. This ensures it is in optimal working order. We also professionally clean the shell, clean the trigger and replace the air bag. This way, it's like a brand new vest again.
All Point Two air vests and jackets come with a lifetime warranty on the air bag component. This warranty requires having the air vest or jacket serviced annually by Point Two UK.
Please feel free to call the office and speak to Justin, who will be able to answer any questions you may have reference the air vests. 01403 249966